APC NetBotz CCTV Adapter Pod 120 with USB cable - 16ft/5m

Cameras that integrate with NetBotz 300, 400 and 500 appliances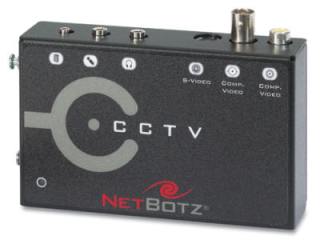 APC Security and Environmental Monitoring
Security Cameras
APC NetBotz CCTV Adapter Pod 120 with USB cable - 16ft/5m
*Please note: Product descriptions, specifications and part numbers have been sourced from www.apc.com and may refer to the US products which differ from products which will be supplied in Australia. Data sheets can be provided upon request for the Australian equivalent to these products.

Overview:
NetBotz CCTV Adapter Pod 120 Overview:
This expanded variety of cameras allows IT administrators to flexibly select the ideal camera for their application. The surveillance management application enables rapid search and retrieval of video, plus 'tagging' of important video clips. The NetBotz camera pod and CCTV cameras (through the CCTV adapter pod) are compatible with NetBotz 300, 400 and 500.
Add third-party closed-circuit television (CCTV) cameras to select NetBotz Appliances.
Includes: Cable mounting kit, Installation guide, USB cable
Features & Benefits:
NBPD0123 Features
Features:
Integrates 3rd party analog cameras
Allows compatible NetBotz Appliances to increase video capabilities by leveraging a wide range of analog camera technologies.
Motion detection
Security Cameras Features & Benefits
Availability:
Full-motion video camera
Capture a visual record when used with a compatible NetBotz appliance.
Technical Specifications:
Model:
NBPD0123
General
Video Source Input Signals
NTSC, PAL, SECAM
Physical
Net Weight
0.50 lbs. (0.23 kg)
Maximum Height
2.72 inches (69 mm)
Maximum Width
4.29 inches (109 mm)
Maximum depth
1.10 inches (28 mm)
Environmental
Operating Relative Humidity
32 - 113 °F (0 - 45 °C)
Storage Relative Humidity
5 - 149 °F (-15 - 65 °C)
Operating Relative Humidity
10%
Storage Relative Humidity
10%
Operating Elevation
0-15000 feet (0-4500 meters)
Storage Elevation
0-15000 feet (0-4500 meters)
Conformance
Regulatory Approvals
CE,FCC Part 15 Class A,VCCI
Standard Warranty
2 years repair or replace
Environmental Compliance
RoHS Category 9
Pricing Notes:
All Prices are Inclusive of GST
Pricing and product availability subject to change without notice.
Note: Shipping charges may vary depending on the selected unit's weight or the quantity of units selected. As a result, the shipping charges may change from the value you receive at checkout. A customer representative will confirm these changes with you if they occur before processing your order.
APC Security and Environmental Monitoring
Security Cameras
APC NetBotz CCTV Adapter Pod 120 with USB cable - 16ft/5m