APC NetShelter SX 48U 750mm Wide x 1070mm Deep Enclosure

Feature-rich IT enclosures optimized for cable management, power distribution, and airflow management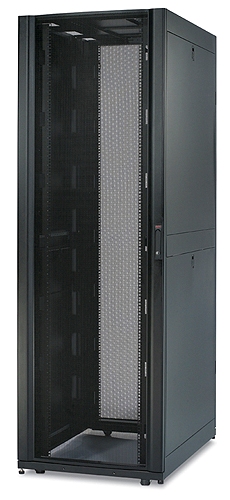 Includes: Baying hardware, Documentation CD, Key(s), Keyed-alike doors and side panels, Leveling feet, Mounting Hardware, Pre-installed casters, Side Panels
APC NetShelter Enclosures
APC NetShelter SX
APC NetShelter SX 48U 750mm Wide x 1070mm Deep Enclosure
*Please note: Product descriptions, specifications and part numbers have been sourced from www.apc.com and may refer to the US products which differ from products which will be supplied in Australia. Data sheets can be provided upon request for the Australian equivalent to these products.

Overview:
World's most versatile rack enclosure for demanding IT environments
The APC NetShelter SX is the next generation rack enclosure solution influenced by 10 years of customer feedback and addresses current IT market trends for high-density server and networking applications. With a strong focus on cooling, power distribution, cable management and environmental monitoring, the NetShelter SX provides a reliable rack-mounting environment for mission-critical equipment.
Tall and wide enclosure with 48U spaces for additional equipment and increased cable management options for high density server and networking applications.

Features & Benefits:
Compatibility
Integrated with APC InfraStruXure products
APC cooling, power distribution, and cable management products work seamlessly with the enclosures to provide a complete IT infrastructure support system.
Guaranteed compatibility
Vendor-neutral mounting for guaranteed compatibility with all EIA-310 compliant 19" equipment. The APC "Fits Like a Glove" money back guarantee provides peace of mind that all of your EIA-310-D compliant rack-mount equipment will physically fit in a NetShelter SX enclosure.
Convenience
Cable Access
Vendor-neutral mounting for guaranteed compatibility with all EIA-310 compliant 19" equipment. The APC "Fits Like a Glove" money back guarantee provides peace of mind that all of your EIA-310-D compliant rack-mount equipment will physically fit in a NetShelter SX enclosure.
Simple Selection
No need to spend hours choosing from and compiling dozens of part numbers to create a single enclosure. APC has made it easy by handling the details and providing complete enclosures with single part numbers.
Ventilated
Perforated front and rear doors provide ample ventilation for servers and networking equipment.
Quick release doors
Front door can be moved to the opposite side or interchanged with rear doors. Doors are easily removed with simple lift-off design.
Half-height side panels
Half-height quick release side panels reduce size and weight for easy handling and access to equipment. Side panels are lockable utilizing a single key with the doors.
Agility
Rear Cable Management channels
Integrated and adjustable rear channel provides zero U mounting locations for toolless accessories. Each channel has two mounting bays to support a combination of up to four accessories such as PDUs and vertical cable organizers.
Adjustable mounting rails
The vertical mounting rails can be adjusted in 1/4 in (6.4 mm) increments covering virtually any mounting requirement for IT equipment. U positions are numbered front and back for rapid installation of equipment.
Split rear doors
Split rear doors improve access and serviceability to rear of rack mounted equipment. The split rear doors help to maximize floor space. Only 11 inches (279 mm) of clearance is required behind the enclosures to allow for door swing.
Adjustable leveling feet
Leveling feet can be quickly adjusted through the use of a screwdriver or drill, eliminating the need to reach underneath with a wrench. Enclosures are shipped standard with both leveling feet and castors.
Overhead cable management
Overhead cable troughs and partitions install toollessly on the roof of the enclosure eliminating the need for ceiling mounted or underfloor mounted cable trays. Cable troughs and partitions are designed to manage both power and data cables while maintaining separation.
Safety
Structural Stability
A proven frame design, heavy-gauge mounting rails, and heavy-duty casters provide for 3000 lb (1364 kg) static and 2250 lb (1023 kg) dynamic load ratings.
Integrated electrical grounding
The roof, side panels and front and rear doors are grounded to the frame of the enclosure. Eight additional electrical grounding inserts are located on the frame for external grounding.
Product Views:
Front Door Open

Rear Door Open

Left Side Open

Both Sides Open

Top View

Top Open

Two NetShelter SX
Technical Specifications:
Physical
Maximum Height
88.90 inches (2258 mm)
Maximum Width
29.53 inches (750 mm)
Maximum Depth
42.13 inches (1070 mm)
Net Weight
372.00 lbs. (169.09 kg)
Net Depth with Stabilizing Feet
57.51 inches (1461 mm)
Shipping Weight
405.00 lbs. (184.09 kg)
Shipping Height
94.50 inches (2400 mm)
Shipping Width
35.38 inches (899 mm)
Shipping Depth
48.00 inches (1219 mm)
Weight Capacity (static load)
3000.00 lbs. (1363.64 kg)
Weight Capacity (dynamic load)
2250.00 lbs. (1022.73 kg)
Minimum Mounting Depth
10.31 inches (262 mm)
Maximum Mounting Depth
36.02 inches (915 mm)
Rack Height
48U
Color
Black
Units per Pallet
1.00
Vertical Posts
16 gauge
Front Door
16 gauge
Rear Door
16 gauge
Roof
18 gauge
EIA Mounting Rails
14 gauge
Side Panels
18 gauge
Conformance
Regulatory Approvals
EIA-310-D
Standard Warranty
5 years repair or replace
Standards
UL 60950
Environmental Compliance
RoHS
Pricing Notes:
All Prices are Inclusive of GST
Pricing and product availability subject to change without notice.
Note: Shipping charges may vary depending on the selected unit's weight or the quantity of units selected. As a result, the shipping charges may change from the value you receive at checkout. A customer representative will confirm these changes with you if they occur before processing your order.
APC NetShelter Enclosures
APC NetShelter SX
APC NetShelter SX 48U 750mm Wide x 1070mm Deep Enclosure