APC SurgeArrest Home/Office

Less than 85V Let-Through Voltage Rating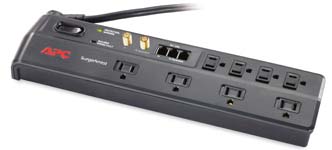 The world's only surge protector to incorporate removable cable guide and rotating cord retainer.
Damaging surges associated with lightning or utility problems can travel along your utility and data lines, damaging your electronic devices and destroying your valuable data. Even smaller everyday surges can degrade the performance of your electronics and decrease their life. The APC SurgeArrest Home/Office series provides a high level of protection for your computers, electronics and connected devices, as well as providing surge protection for your phone lines and on selected models - coax cables. Its state of the art circuitry offers excellent protection for sensitive electronic equipment against large surges and multiple surge events. Additional features like plentiful outlets, eight foot power cord, phone line splitter, status indicator LEDs, cord management and more make this one of our most complete surge offerings - our lifetime Equipment Protection Policy guarantees it.
Pricing Notes:
All Prices are Inclusive of GST
Pricing and product availability subject to change without notice.
Note: Shipping charges may vary depending on the selected unit's weight or the quantity of units selected. As a result, the shipping charges may change from the value you receive at checkout. A customer representative will confirm these changes with you if they occur before processing your order.
Product descriptions, specifications and part numbers have been sourced from www.apc.com and may refer to the US products which differ from products which will be supplied in Australia. Data sheets can be provided upon request for the Australian equivalent to these products.
APC Products
APC SurgeArrest Home/Office
APC SurgeArrest ClassiC